Day 2: Birds, Bones and Burdock
This morning we went on a field trip to the research collection of the Canadian Museum of Nature. Dr. Gregory Rand was kind enough to give us a tour of the museum's extensive storage of bird specimen. This place is a true "Wunderkammer" for everyone who is interested in birds. On a side note: this place is not accessible to the public, so don't show up there expecting to be able to browse through the seemingly endless cabinets and drawers full of birds, nests, and eggs all by yourself. Of course, the cabinet with pigeons was definitely one of my favorites.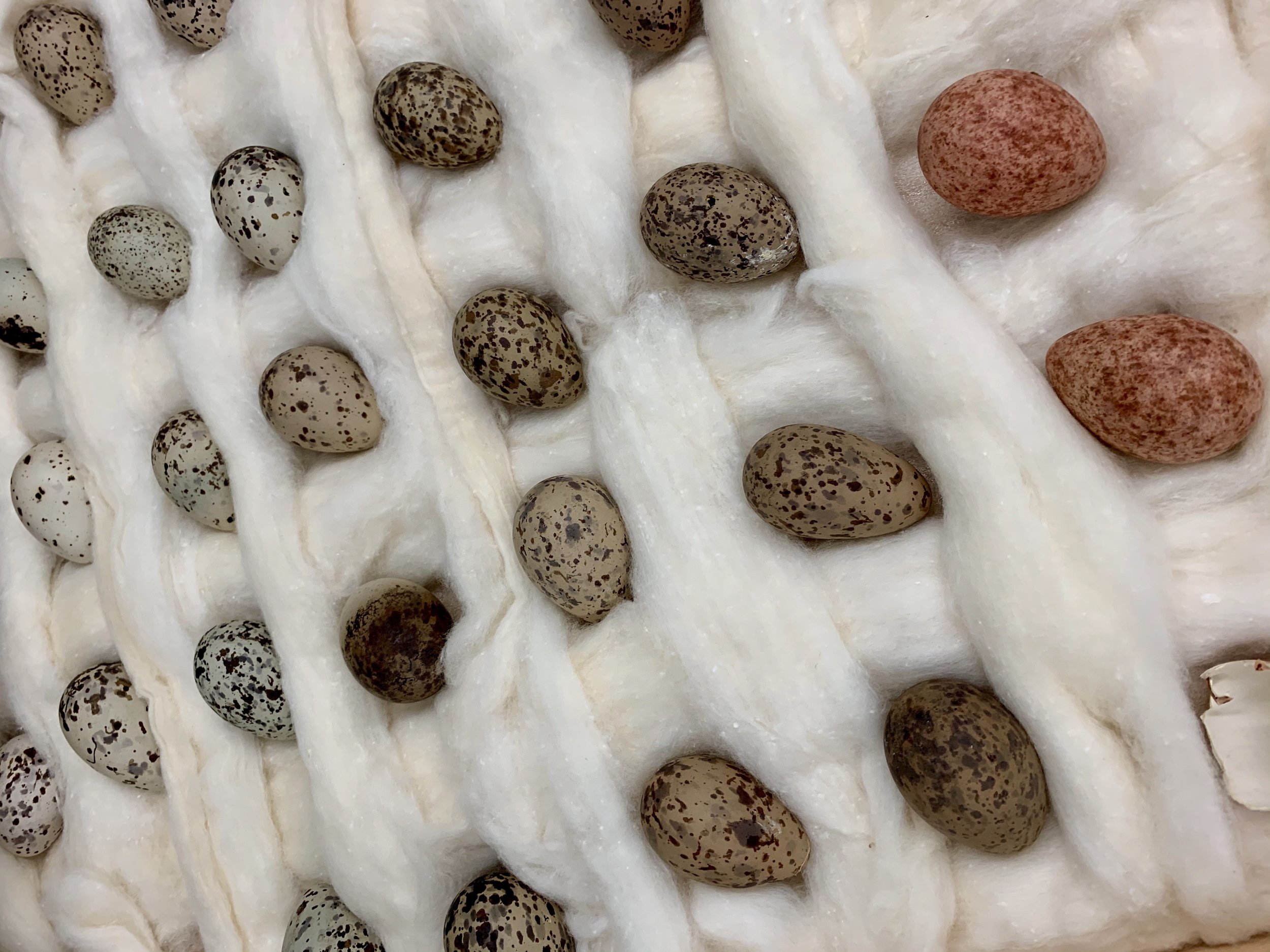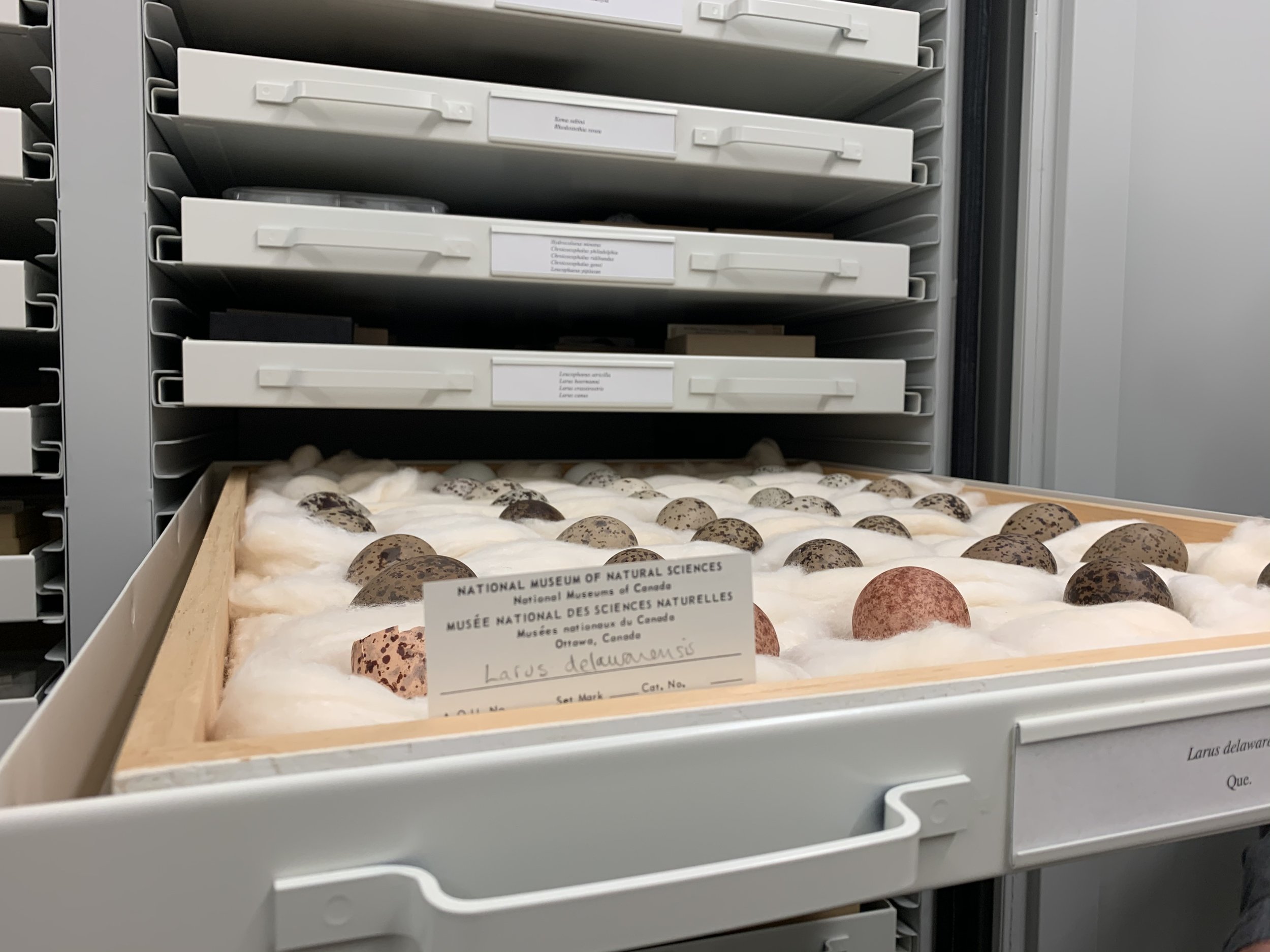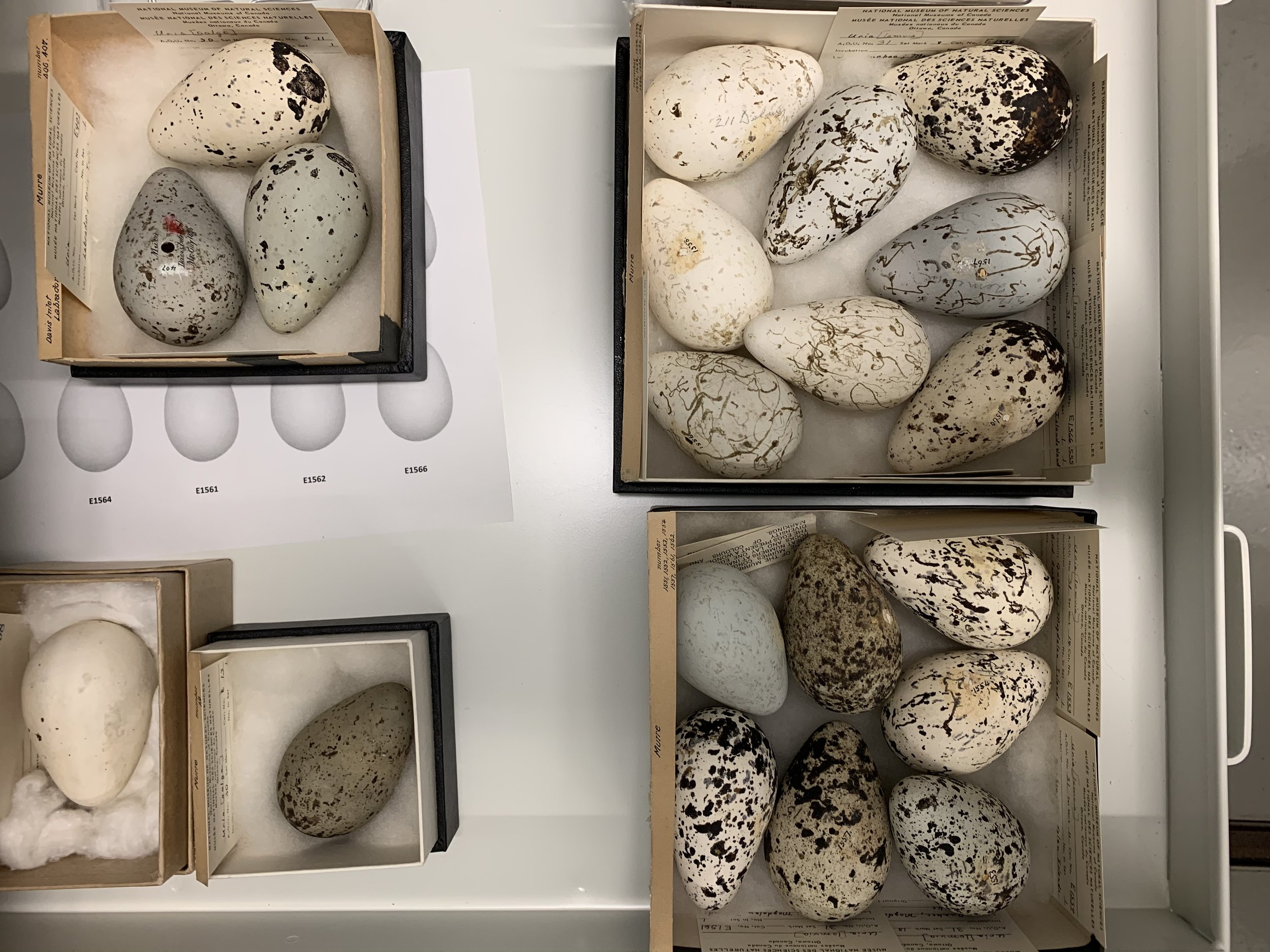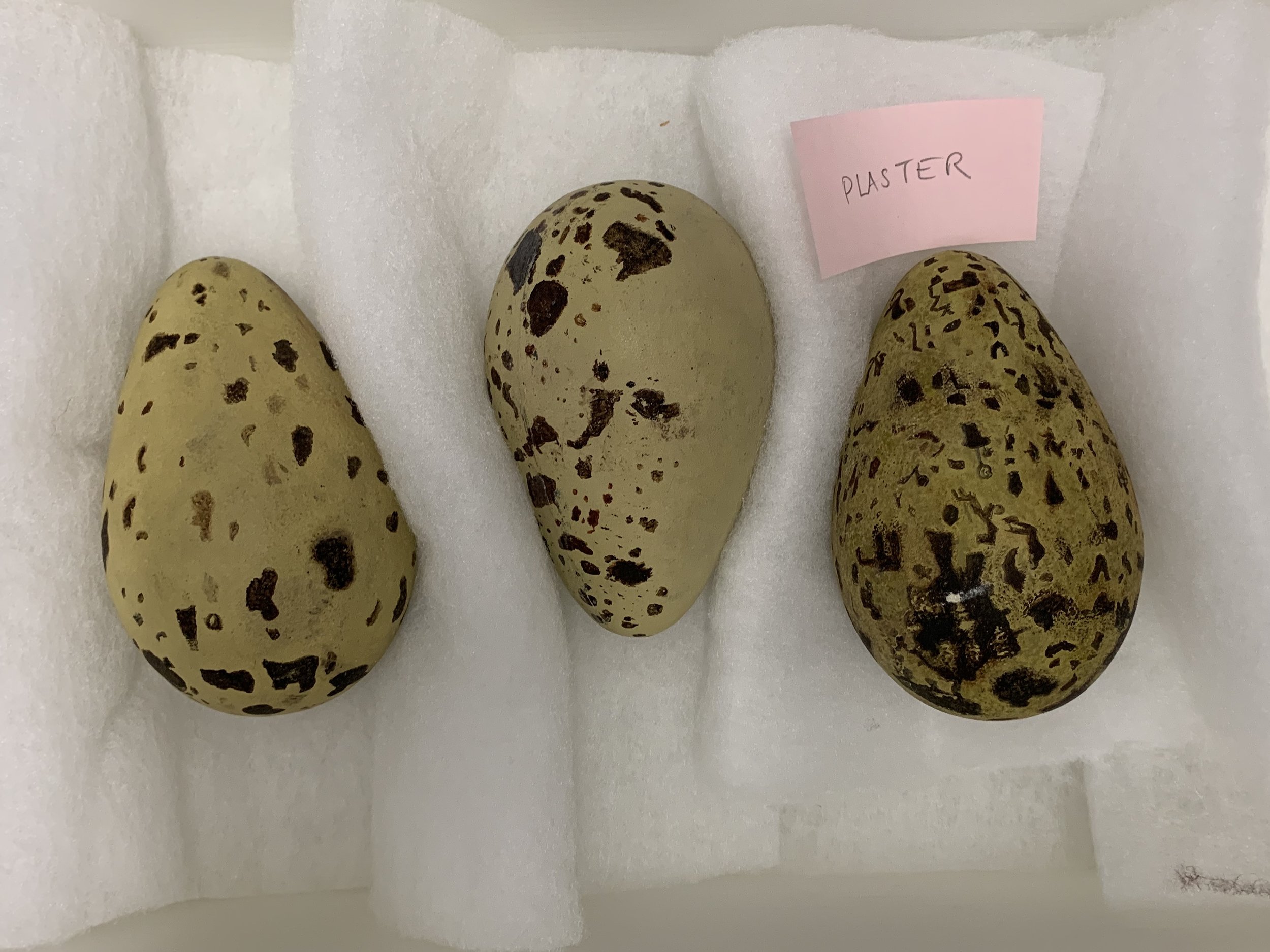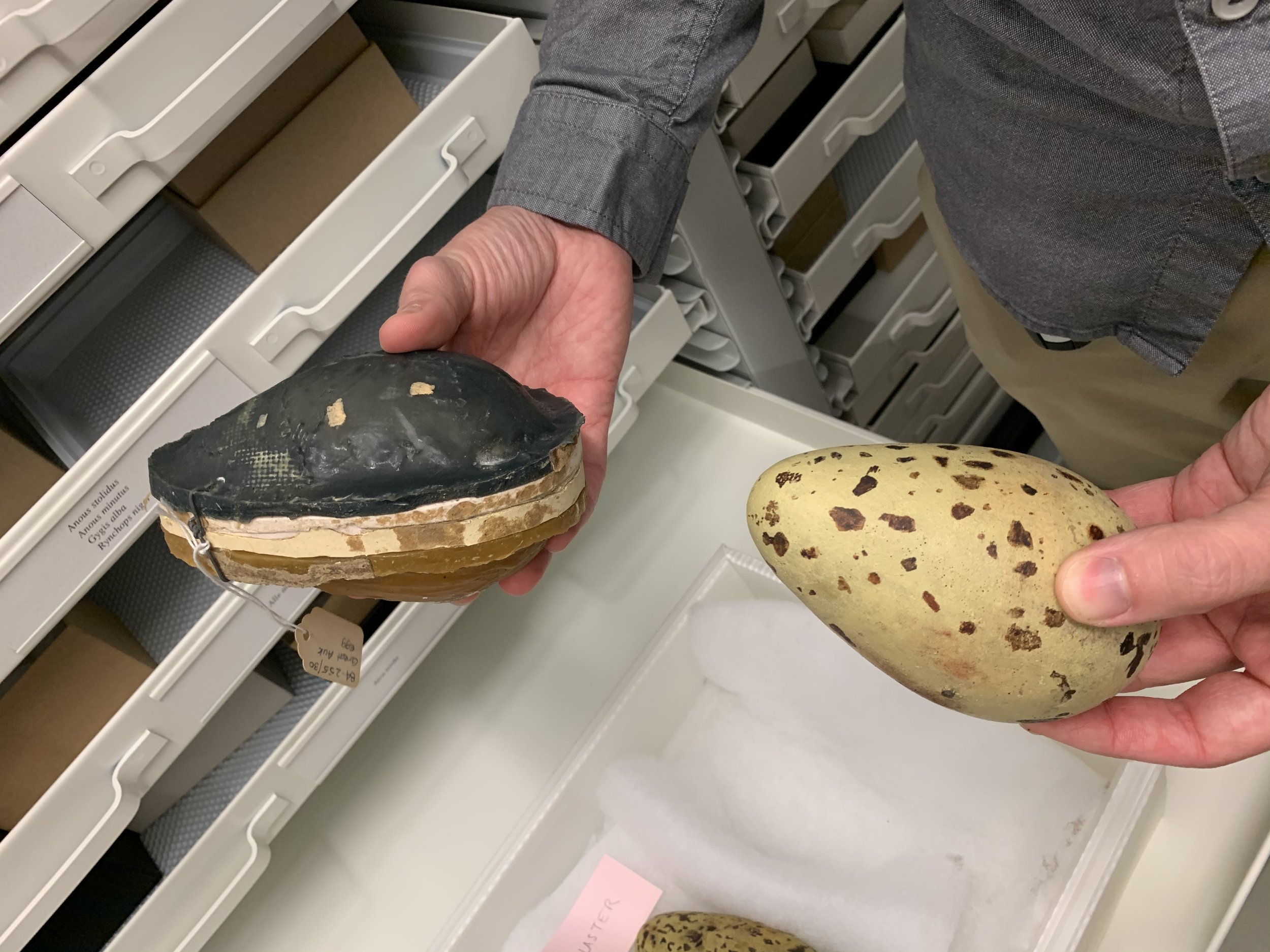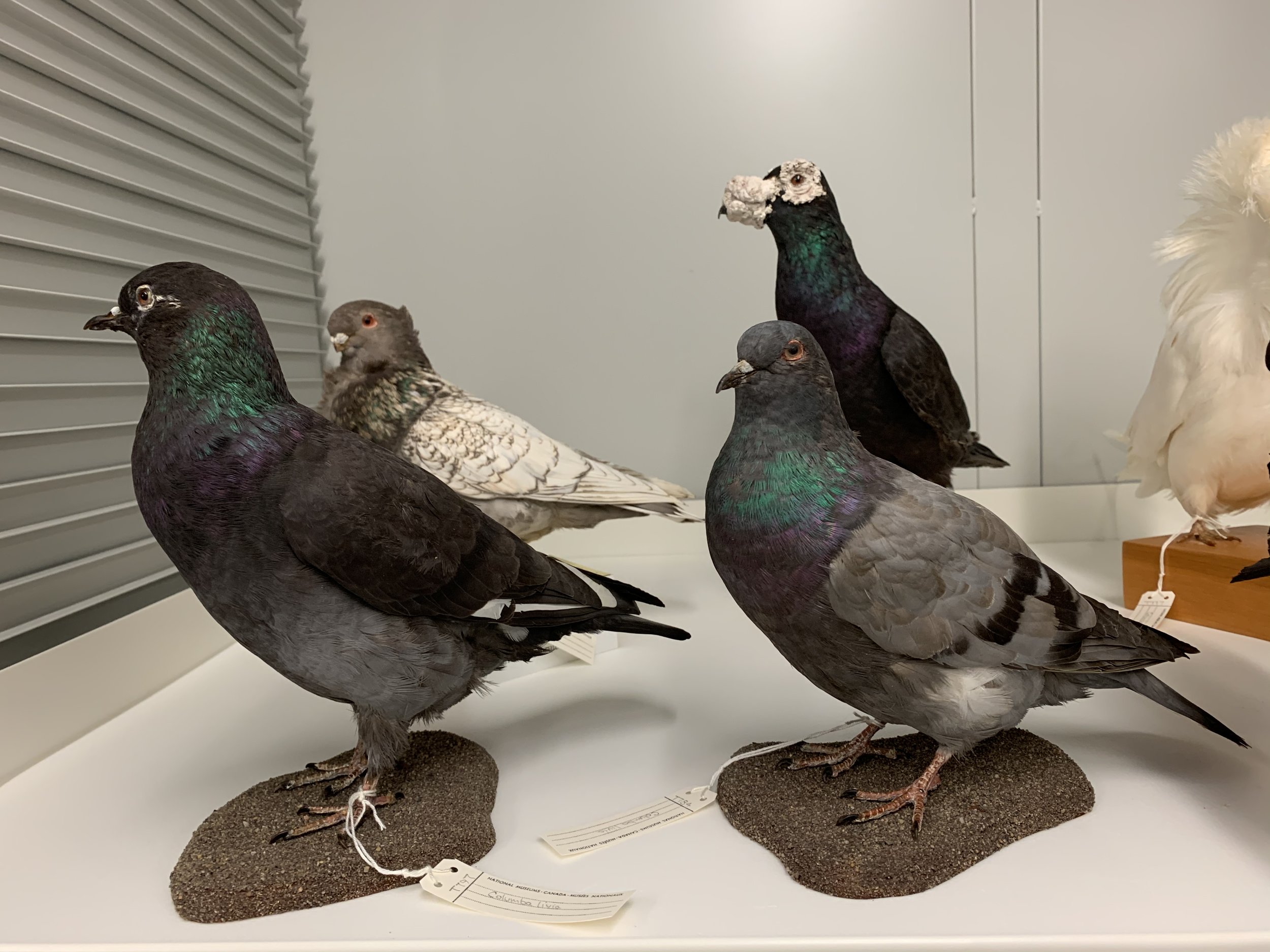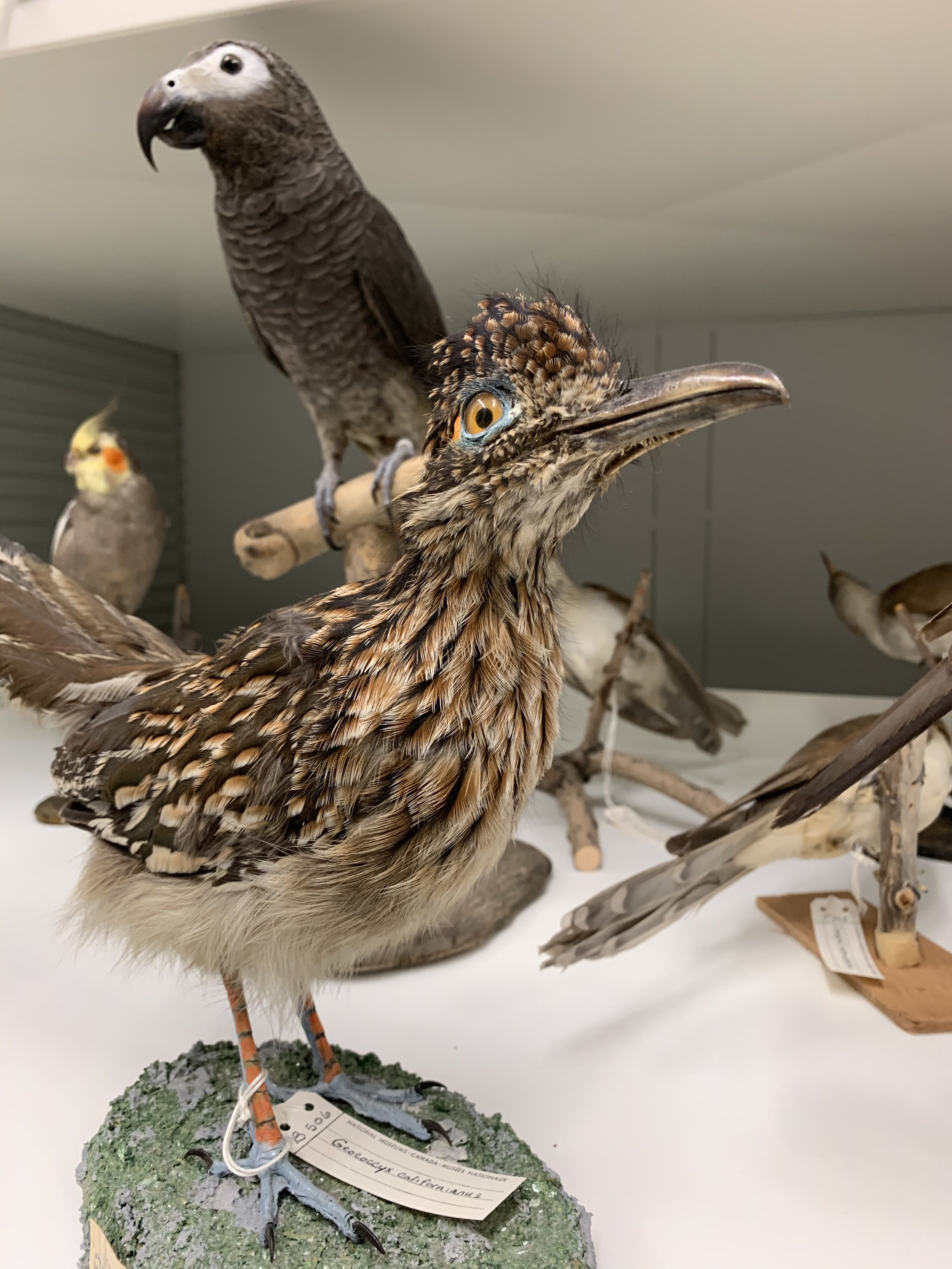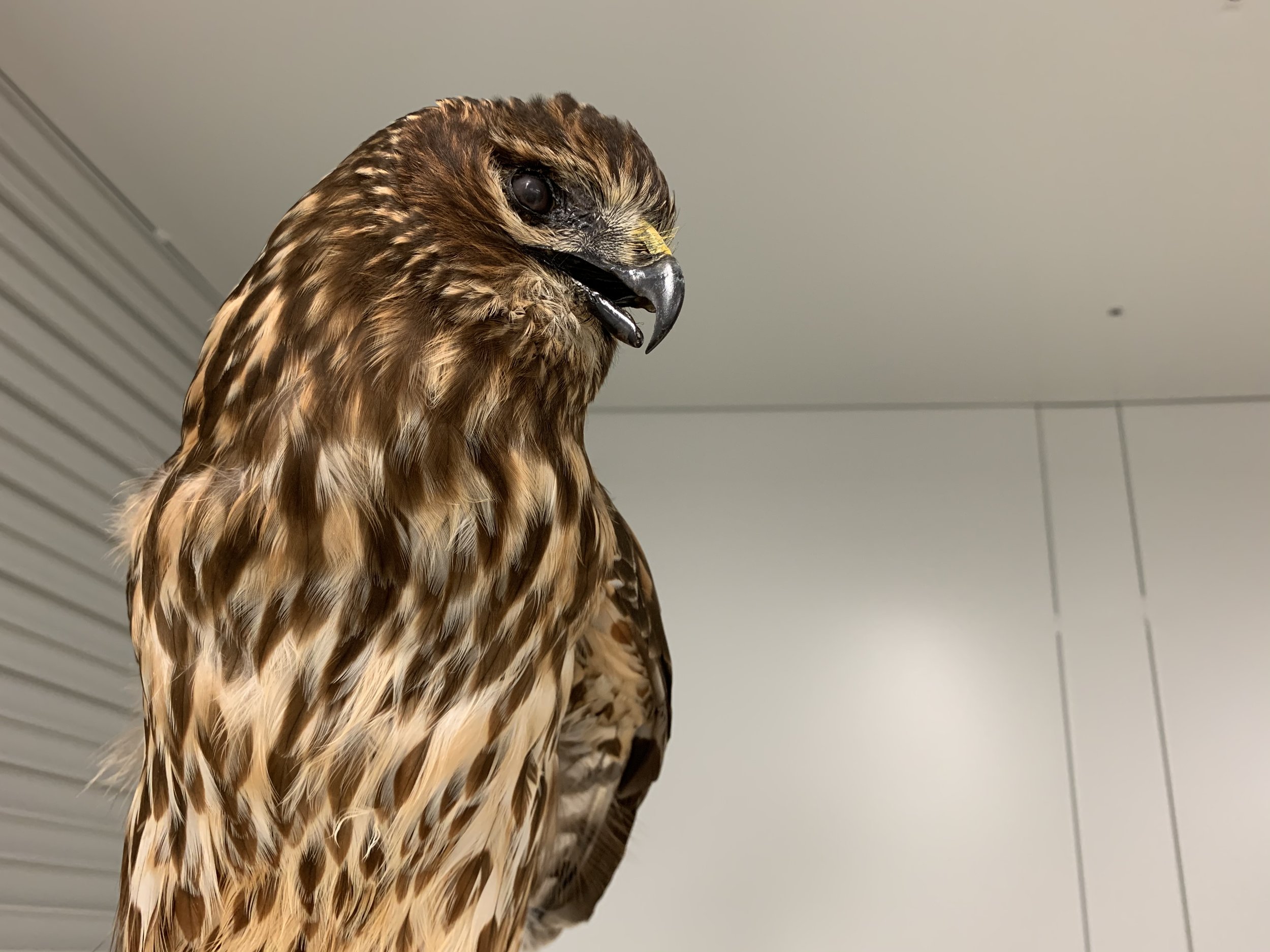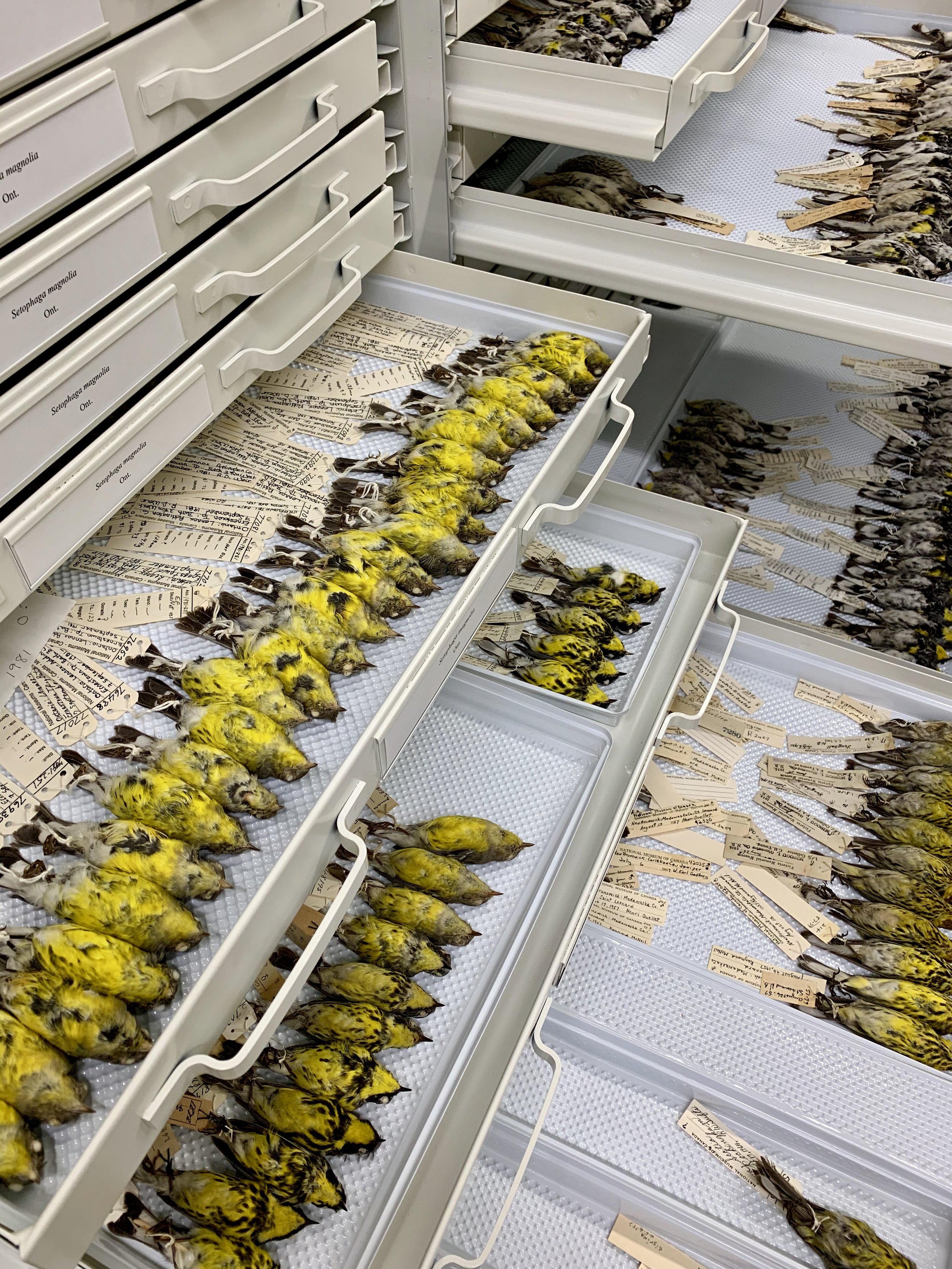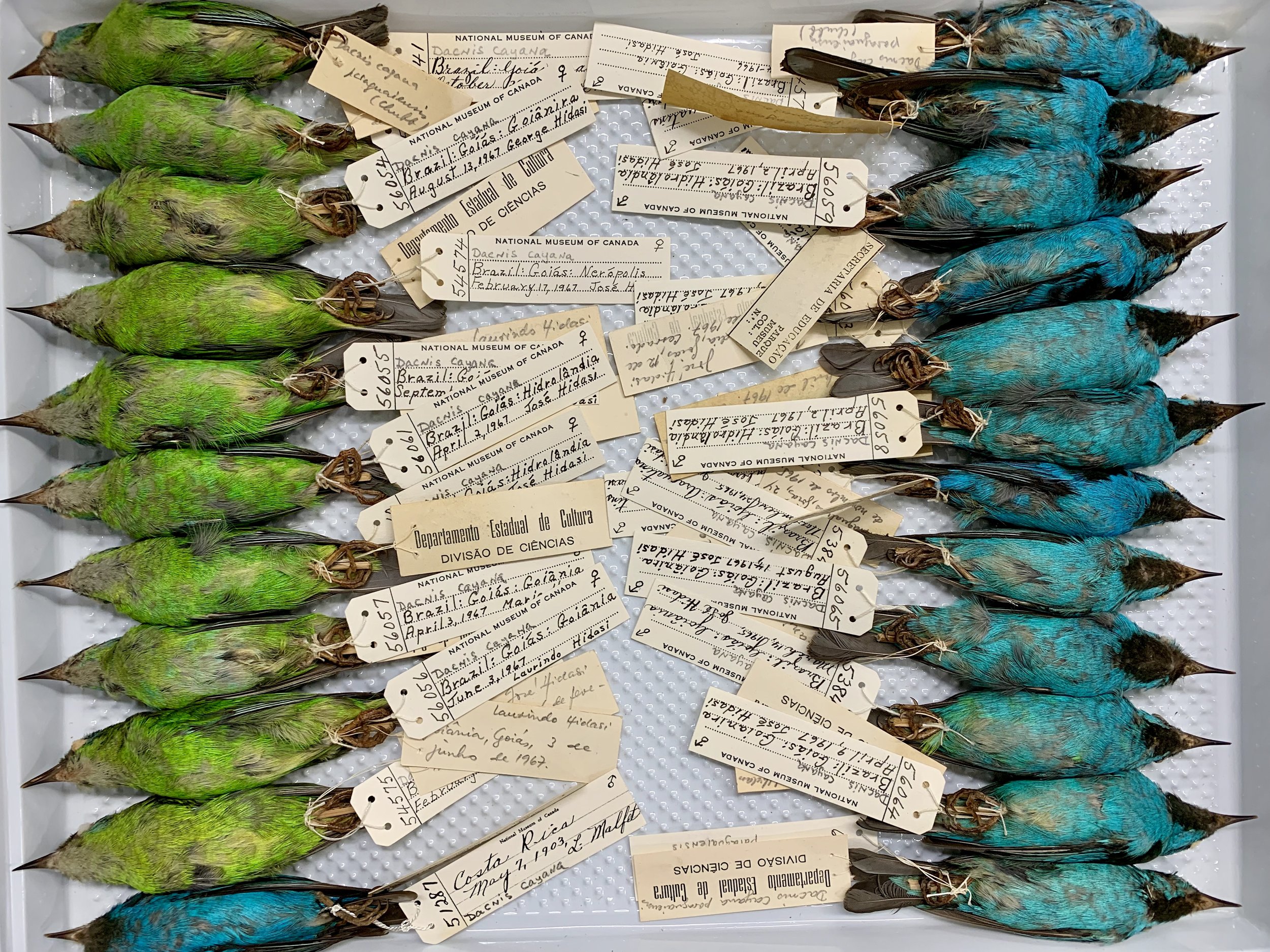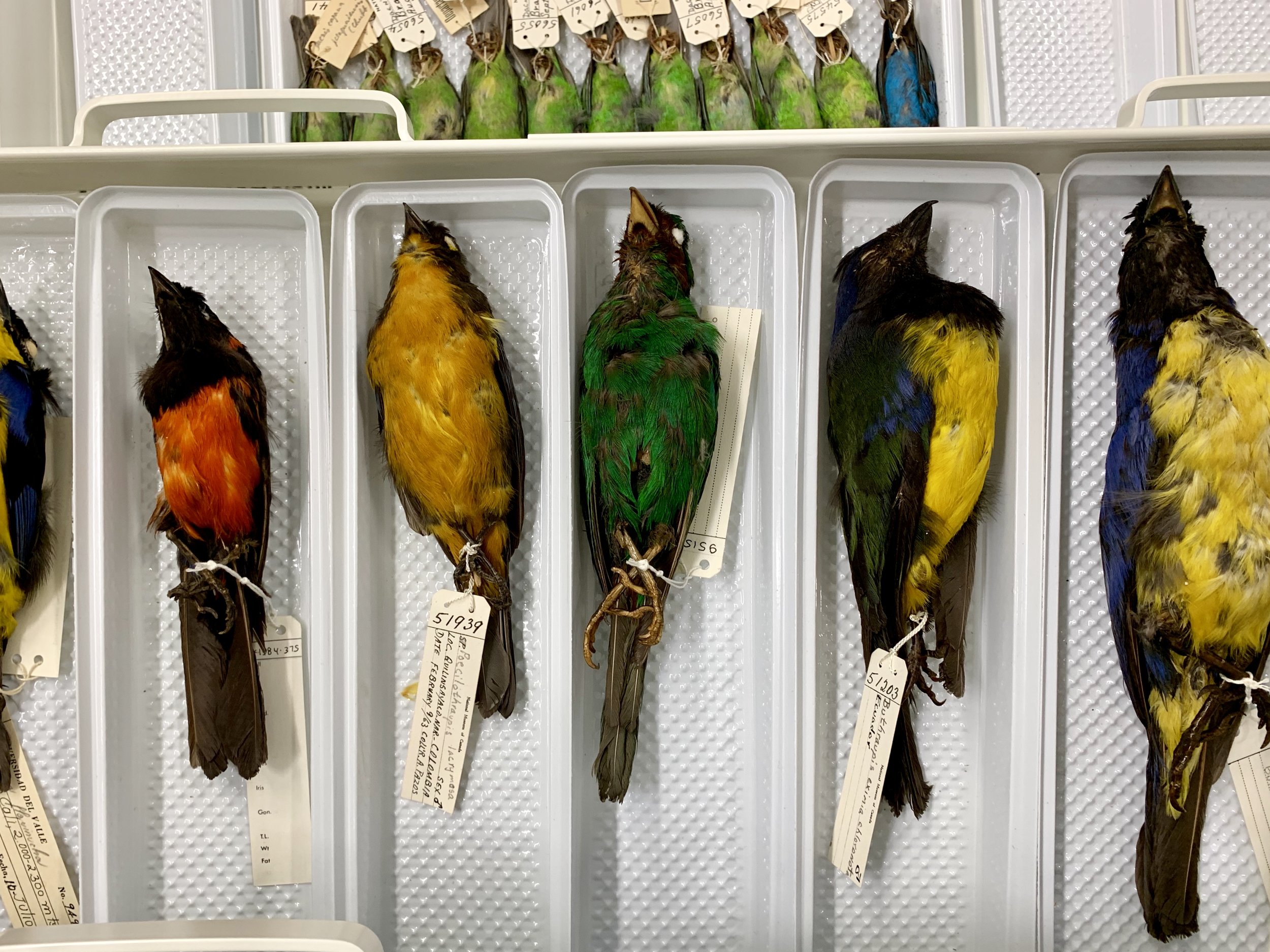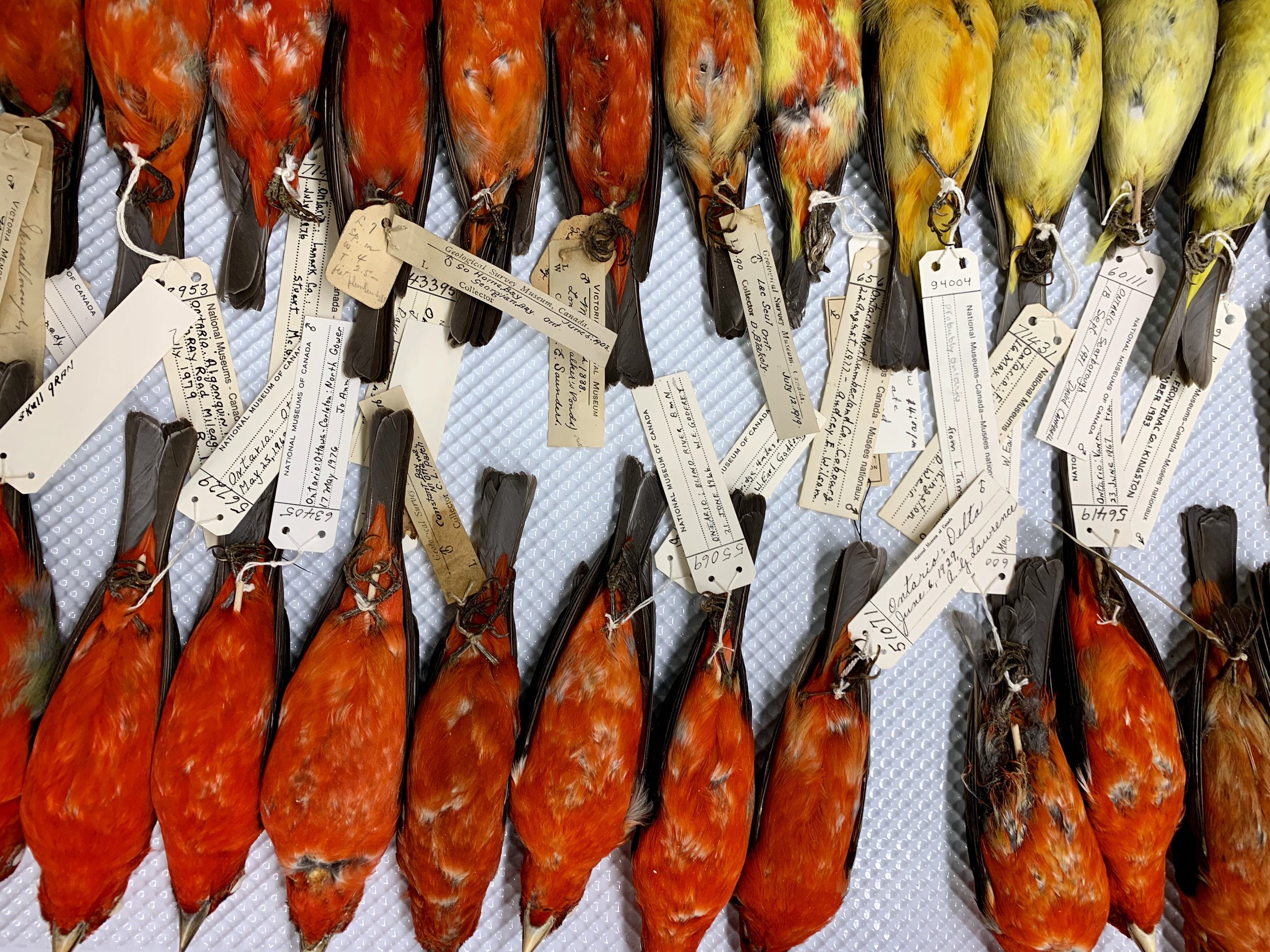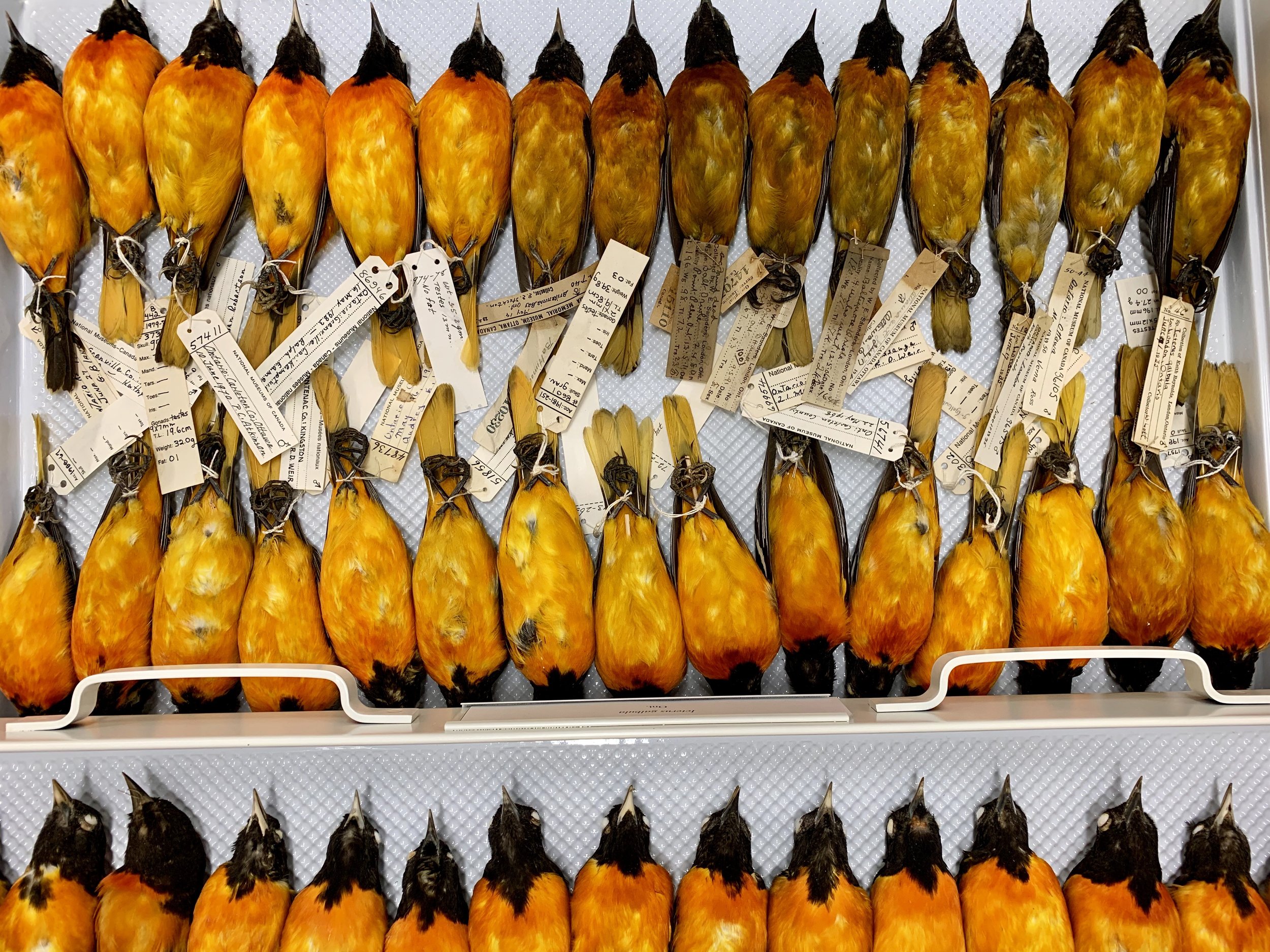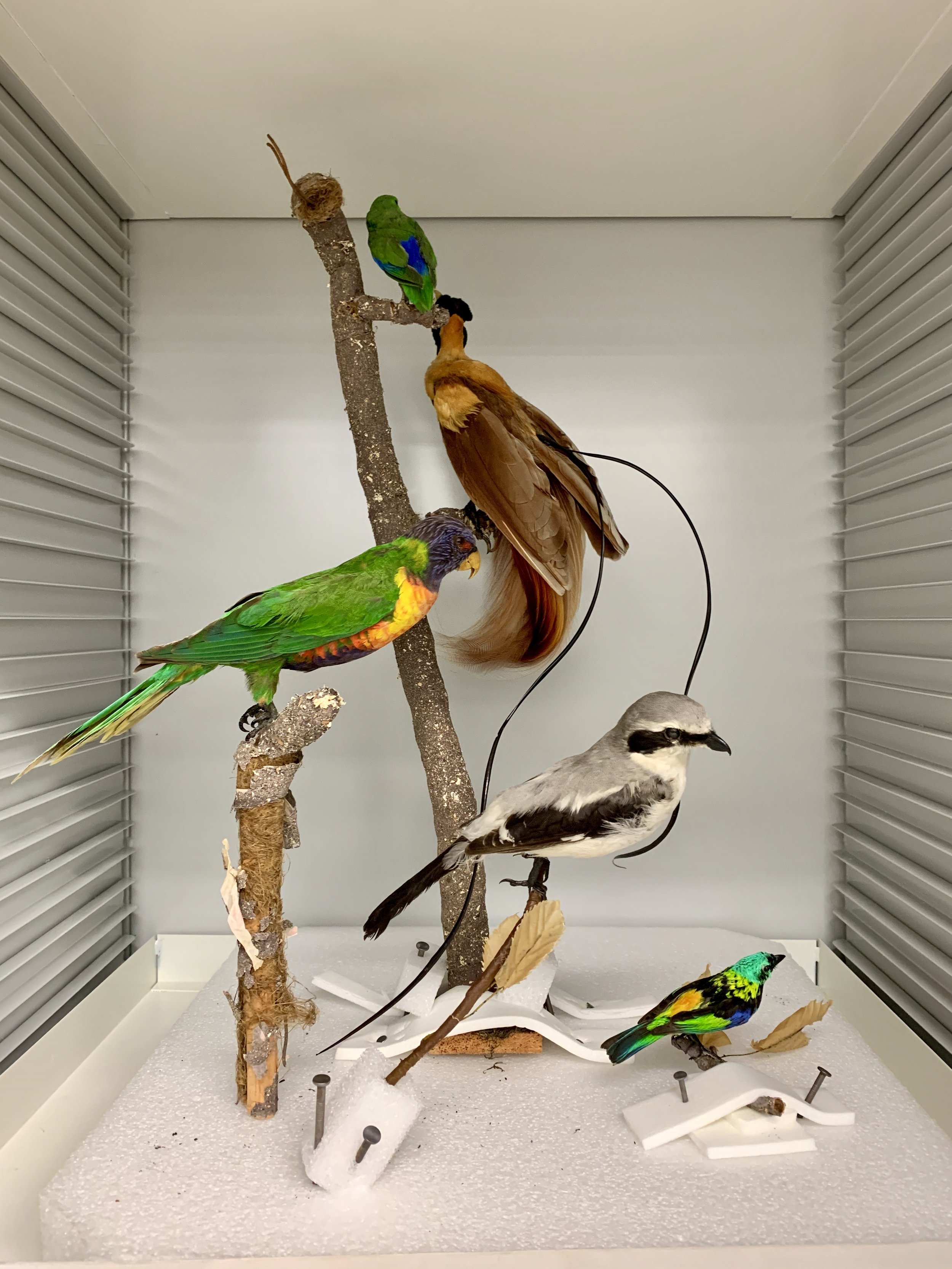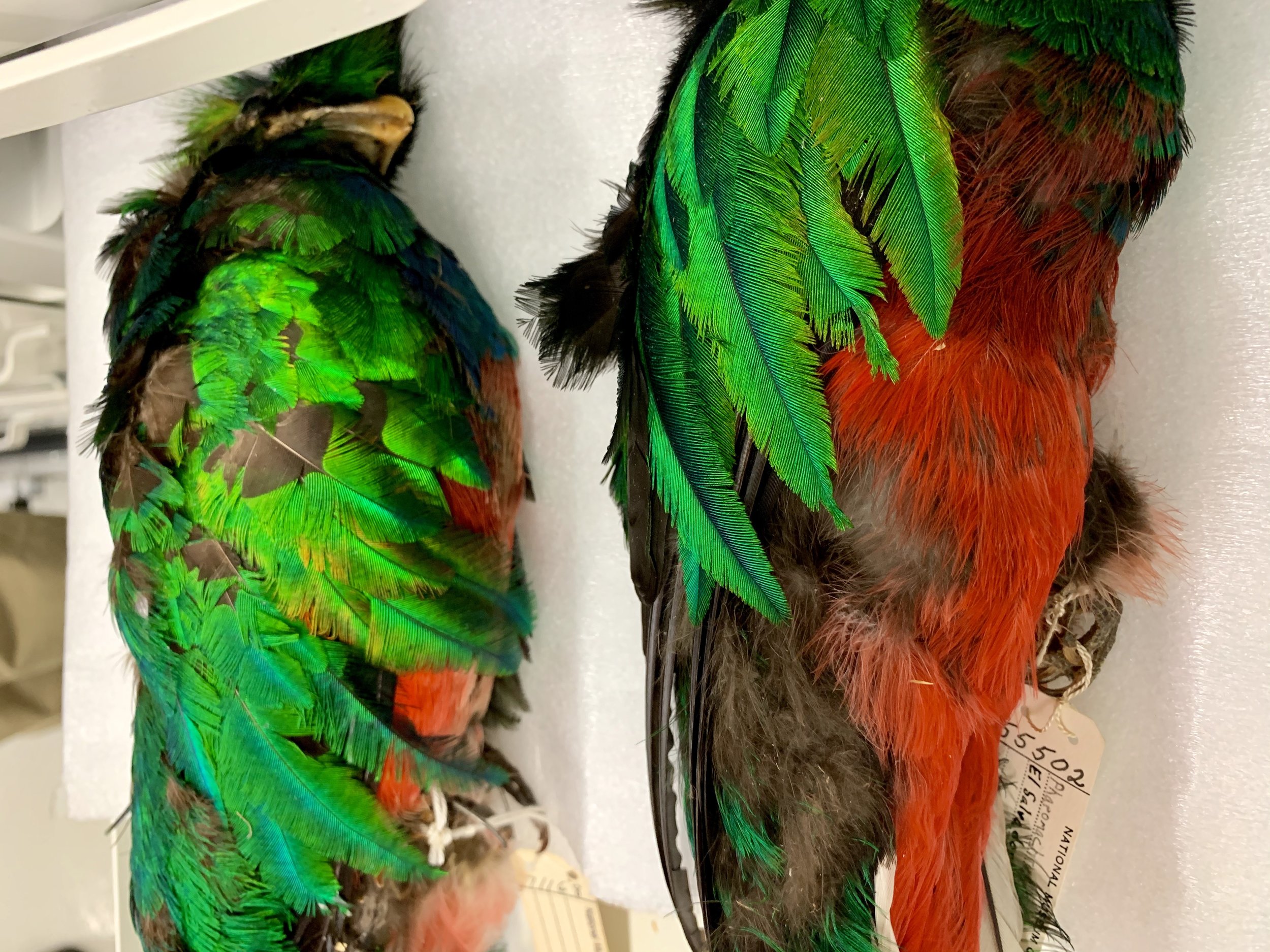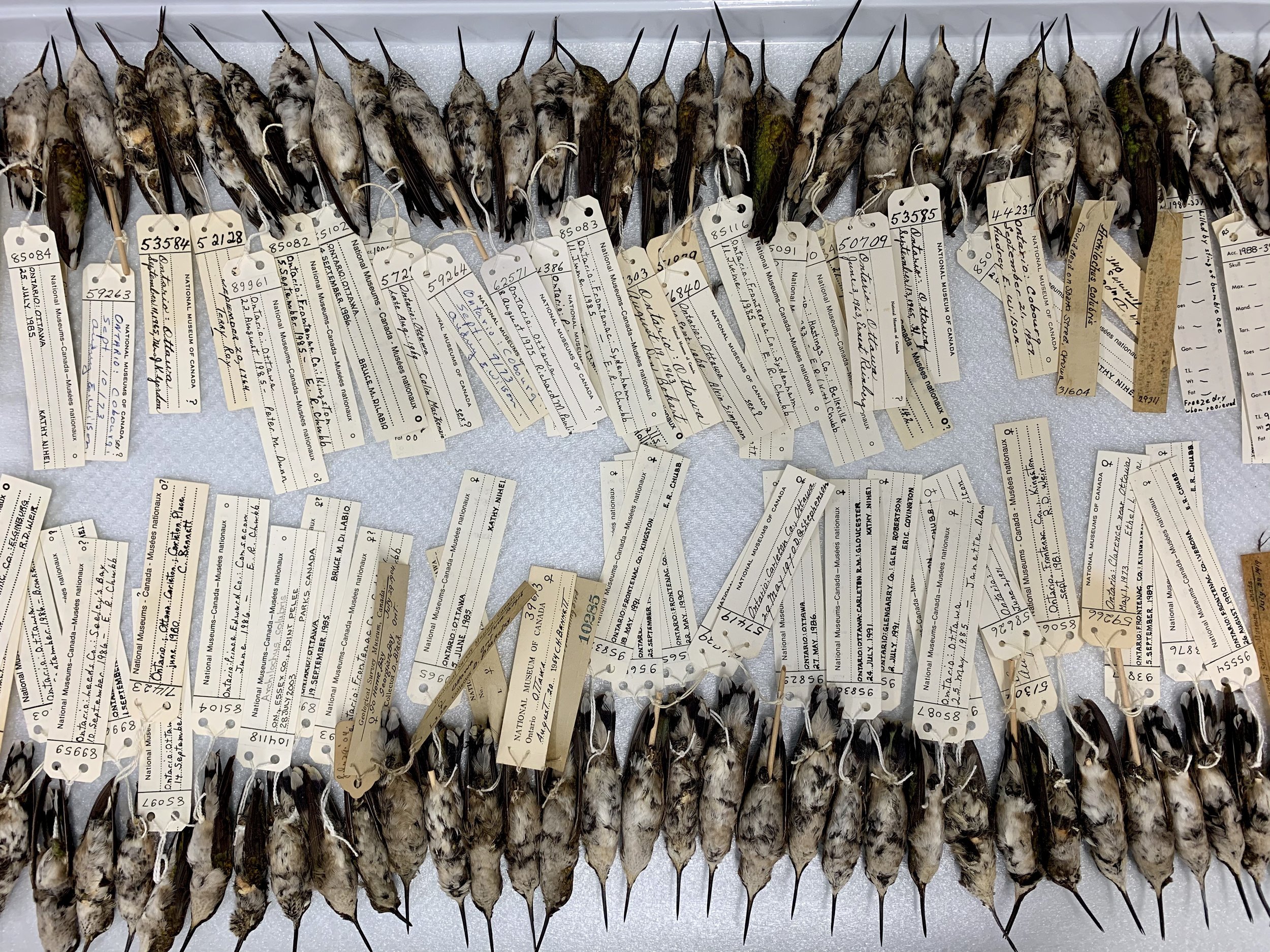 Following the bird experience we proceeded to the museum's large bone collection, a big storage facility with an overwhelming amount of objects spanning from Blue Whale jaw bones to an almost fully assembled Giraffe skeleton, neatly placed amongst many other either assembled, or meticulously boxed specimen. This area also featured some magnificent taxidermy of Mufflons, a version of each a Brown and a Kodiak Bear, as well as a Musk Ox. A wall of antlers added it's very own flair to the visual experience of the space. We learned that the Canadian Museum of Nature holds the largest collection of Polar Bear bones, as well as - wait for it - whale wax ear plugs ... go figure. Apparently, these wax balls are a great way to measure long term contamination levels in sea water because a whale's lifespan can easily exceed 150 years. The wax thus keeps accumulating and "layering" contaminants like tree rings. Unfortunately these wax specimen were locked away due to safety concerns as they contain formaldehyde.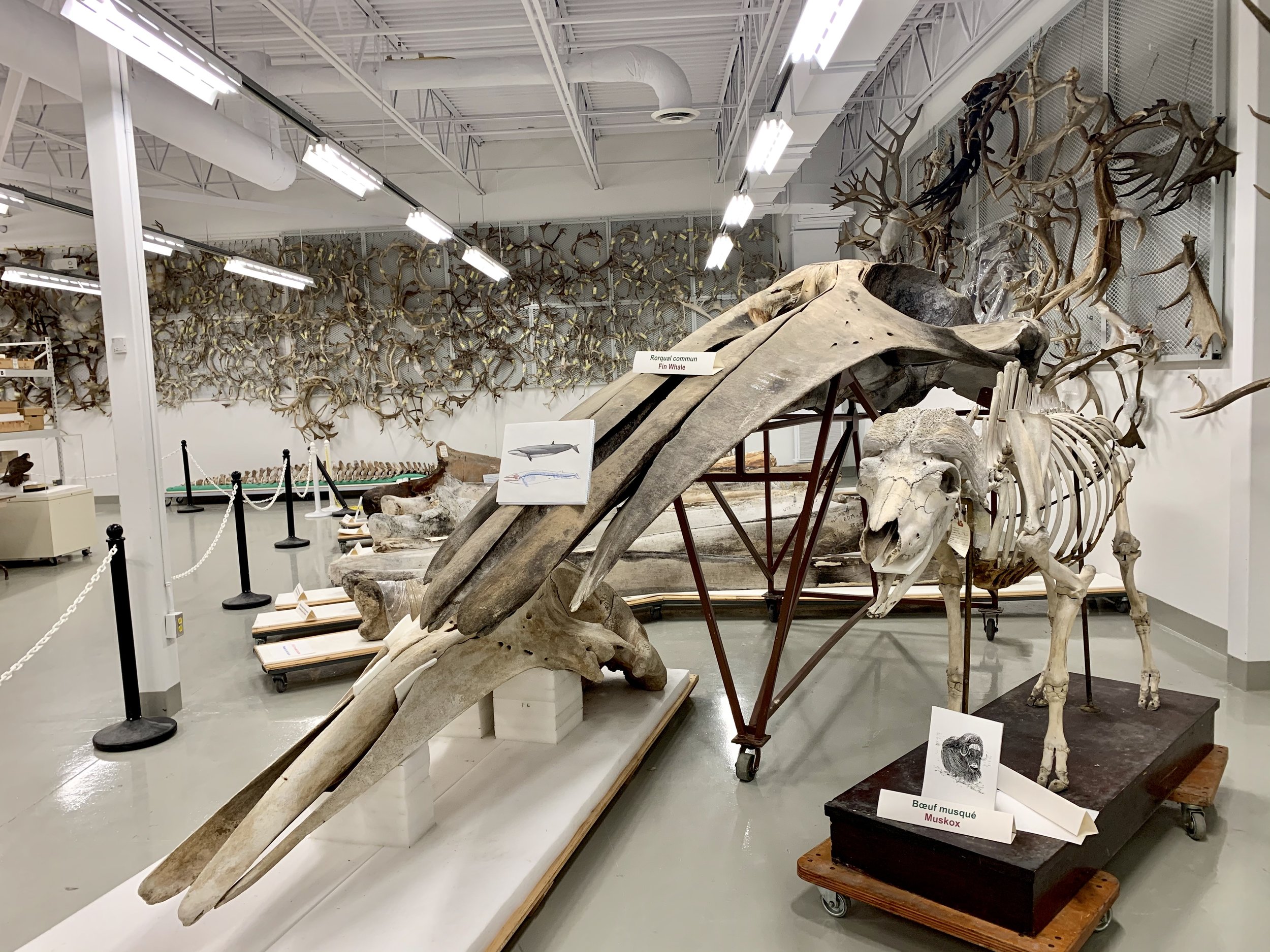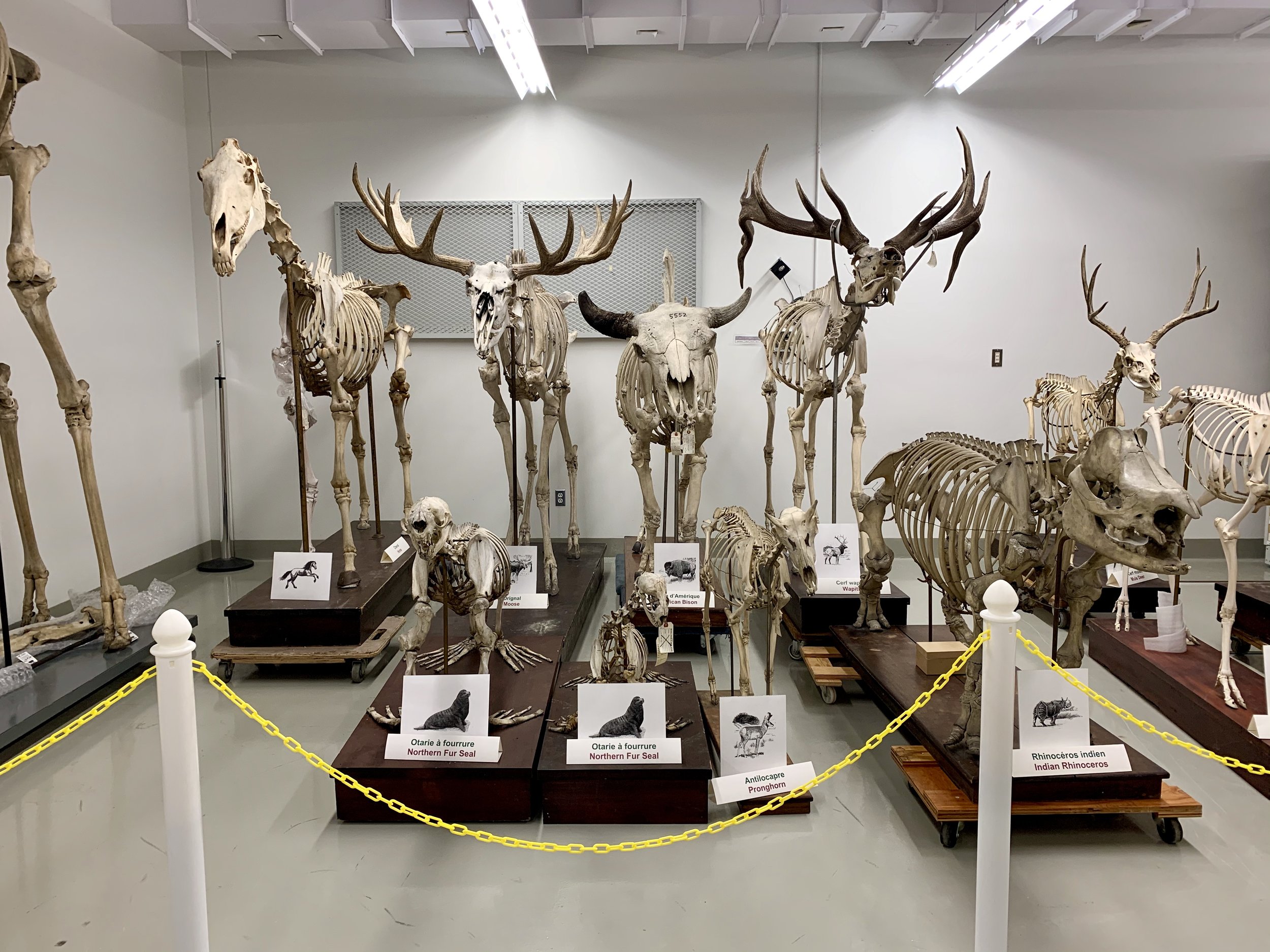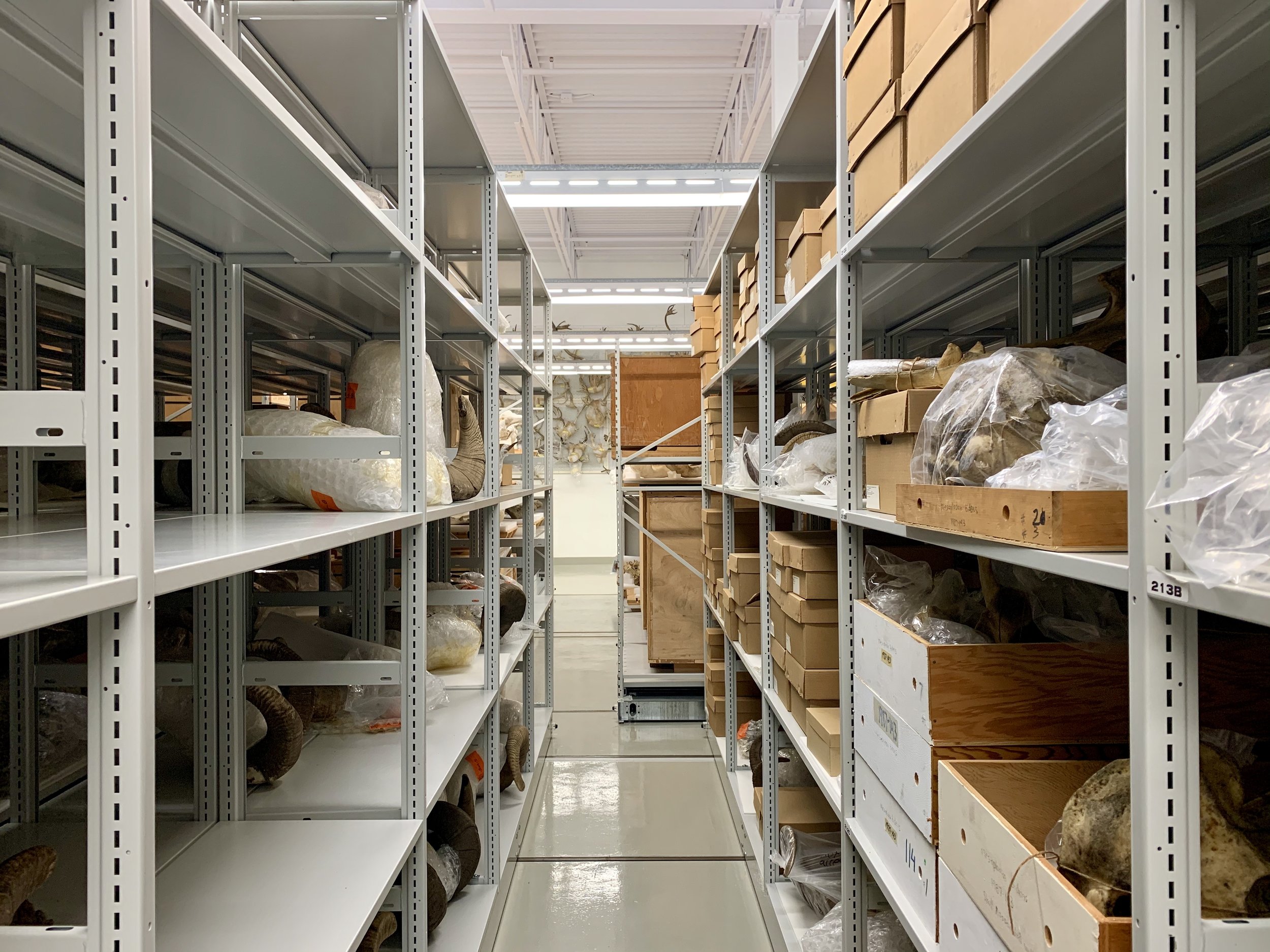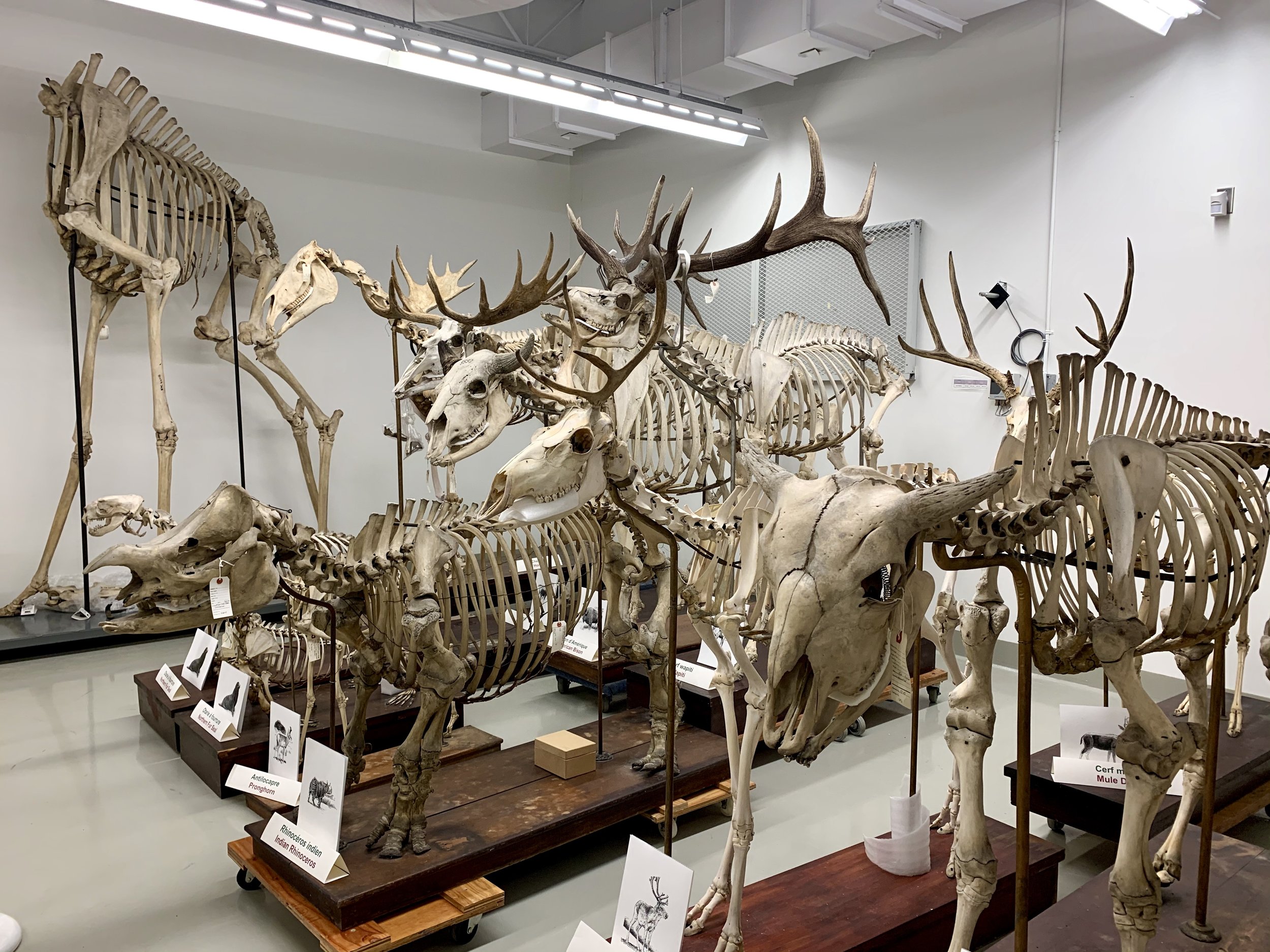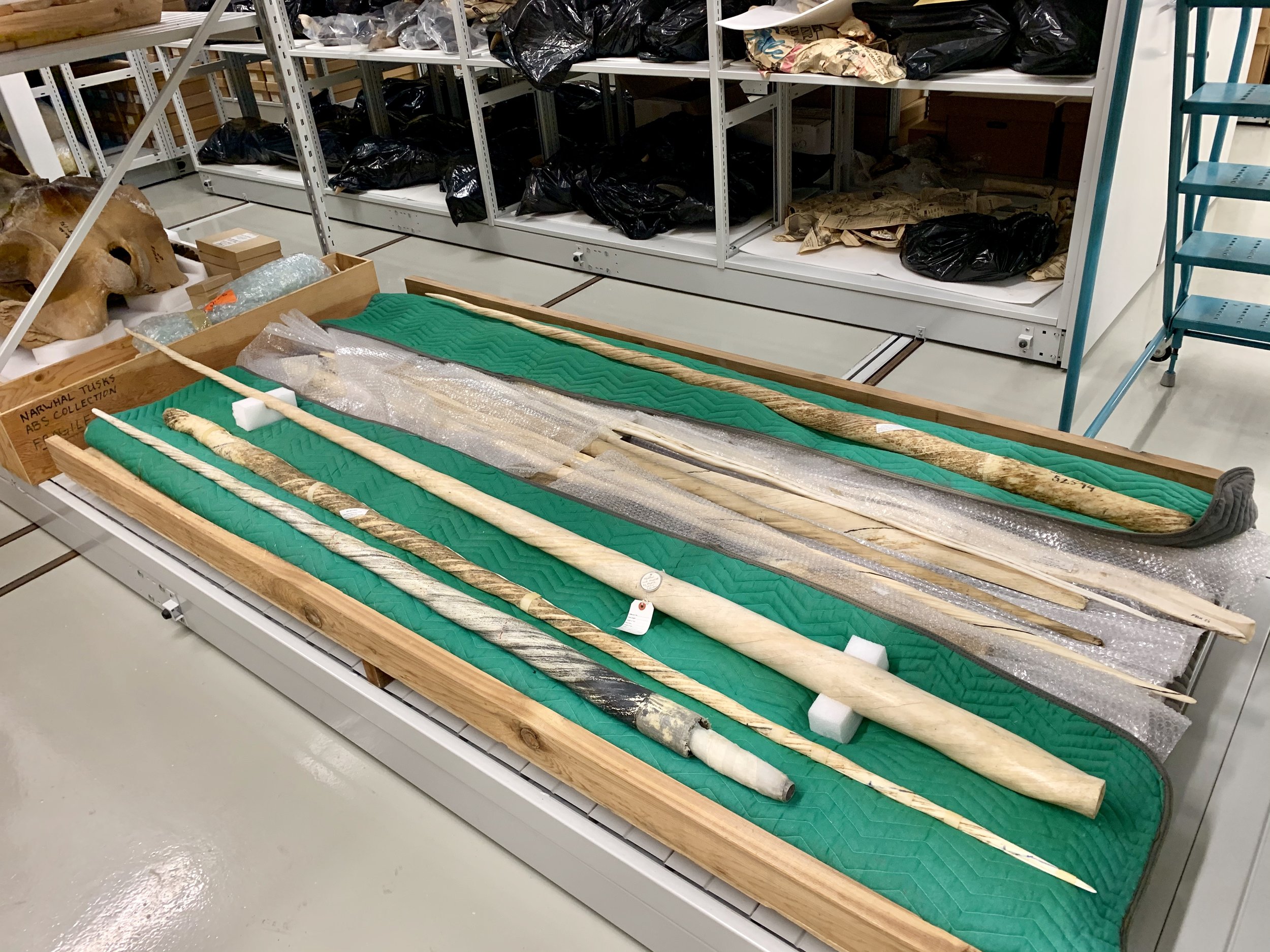 The second activity of the day took us on a foraging trip for edible and medicinal wildflowers and plants with herbalist Amber Westfall, the owner of The Wild Garden in Ottawa. I can proudly report that I tasted the fruit of the Black Nightshade and survived. As a matter of fact Solanum nigrum is not extensively toxic and its fruit tastes like a mixture of gooseberry and tomato, with an interesting yet hard to place, violet aroma and sweet aftertaste. Anyway, please refrain from eating any relatives of the nightshade family for your own health and security (except tomatoes and potatoes provided by your grocer, or farm stand). Another interesting taste was the seed package of Milkweed (Asclepius syriaca), referred to by our guide as the taste of "cucumber cotton candy". I would say that description pretty much nails it - it is weird yet pleasant. More highlights: Wild Carrot (Daucus carota aka. Queen Anne's Lace), Pineapple Weed (Matricaria discoidea - a common Midwestern permaculture), the somewhat bittersweet and tart Chokecherry (Prunus virginiana), and the more than weird Paracress (Acmella orelacea), whose leafs will make you salivate in abnormal amounts for a very short time. We rounded the day up with a refreshing tasting of Amber's homemade Stinging Nettle cordial.
[MH]